The First American to wear a Wristwatch In Space?
Scott Carpenter 1925-2013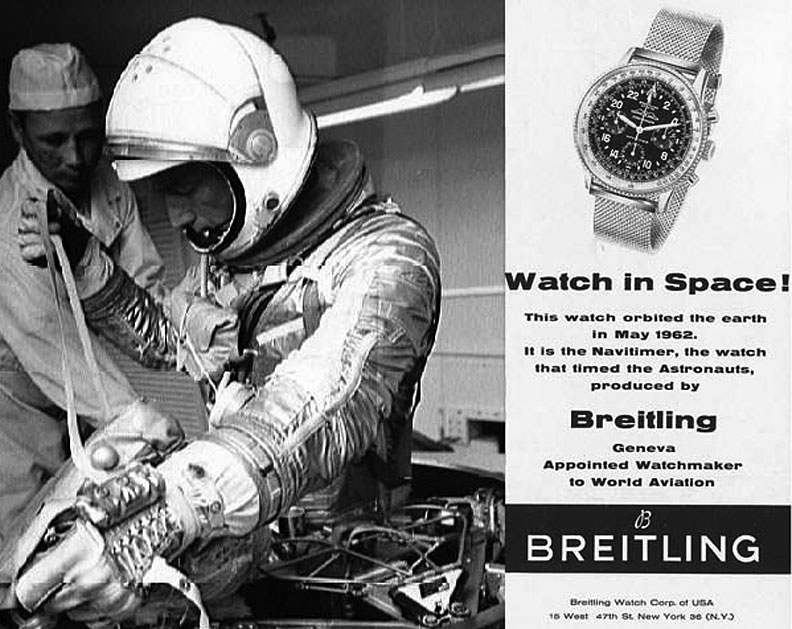 Scott Carpenter said "Early on in Project Mercury, for an unmanned Atlas launch, I went to Perth, Australia and flew with the RAAF (Royal Australian Air Force), and it was there I saw the Breitling Navitimer, which had been issued to the RAAF pilots." "Timekeeping was one of my areas of responsibility as part of my overall task developing Project Mercury navigation systems. My thought was that the Navitimer would be perfect for the Project Mercury astronauts." "The Breitling Navitimer required some redesign for space-flight. For one, the astronauts would not need a tachymeter (a scale with which one measures hourly production rates). I had them replace the tachymeter with a 24-hour dial.""Breitling sent me the redesigned watch, called the Cosmonaut (Breitling was in the French-speaking part of Switzerland, and the cosmonaute was French for astronaut), four days before my flight aboard Aurora 7. It was basically a Navitimer with a circular slide rule." As far as I can tell, Scott Carpenter was the first American Astronaut to wear a wristwatch in space. When Scott splashed down in his Aurora 7 capsule his Breitling got wet and experienced some water damage. Scott sent it back to Breitling for repair, but Breitling pulled the switcho-chango and sent him back a different watch, thus keeping the first wristwatch flown in space for their museum. As you can see from the Breitling advertisement pictured above, Breitling advertised their watch as follows, "Watch in Space! This watch orbited the earth in May, 1962. It is the Navitimer, the watch that timed the Astronauts, produced by Breitling." Breitling later issued a Scott Carpenter Cosmonaute watch based on his 1961-1962 design. The original redesigned watch Breitling customized for Scott Carpenter was probably the first wrist-watch to be flown on an American manned orbital mission.
Scott said "They sent it back to me and removed the word Navitimer, and put the word Cosmonaut on it."